My fifth farm was La Buena Vida Farm near Portal, Arizona.
The Farm
The farmers are Jerry and Jennifer.  Jennifer knew since high school that she wanted to have land some day.  While they were living in Nogales, they decided to have some fun on Craig's List by playing 'let's get a farm.'   The game turned into a purchase of land in an arid valley of southeast Arizona.  They didn't know what to do with the land at first.  "We thought we'd just sit on the front porch and make bead necklaces," Jennifer said.  However, with no place to buy food except for a Walmart an hour away, they realized they had to grow their own food.  So the farm was born.  Both Jennifer and Jerry commented that even though they hadn't planned on being farmers, once they started farming they felt it was what they were meant to do and they felt a deep fulfillment and satisfaction.  The farm uses Zuni sunken beds to grow vegetables like lettuce, cabbage, chard, carrots, radishes, Asian greens, corn and Sonoran wheat.  There are also Nigerian dwarf goats that are raised for milk and meat.
My Farm Experience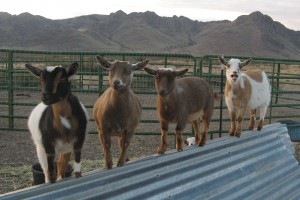 My day started at sunrise around 7:00.  I crawled carefully down the ladder from my loft bedroom in the community kitchen and headed for the outhouse.  I love outhouses because they get me outside.  After the cold mornings at 8,000 feet at Coonridge, I relished being in just shirtsleeves this early in the morning.   I was also amazed that the little outhouse had a flush toilet.  From the outhouse I'd take a walk over to say good morning to the goats.  I was always accompanied along the path to the goat pens by a group of cats walking next to me and a chicken a ways behind walking as fast as her legs could go.  The goats were hoping I was there to feed them so they all came up to the fence and called to me.  Leaving the goats disappointed, I went back to the kitchen to prepare coffee and breakfast.  Jennifer stocked my fridge with eggs, milk, yogurt, butter and leftovers from her delicious cooking.  I'd have eggs with toast and yogurt or leftover crepes with blackberry jam I made at Pholia Farm.
Work started at 9:00.  There were no routine tasks for me except watering once a week so each day was a new task.  Besides the goats, my main interest on the farm was the grains, corn and Sonoran wheat.  The corn had been harvested but the stalks were still standing.  My first farm task was to knock down the corn stalks and pile them up so they could be put through the shredder to be made into mulch.  It had been warm out so I also had to watch out for rattlesnakes which may not have hibernated yet.  The farmer's seven-year-old son came out to help.  He had a great technique of kicking the stalks straight-on with his toe.  I started using this technique and the stalks feel faster and easier.  My other first day task was watering the garden beds.  The plants are grown in Zuni sunken beds to keep the constant wind from blowing the soil away and to help keep the moisture in.  Jerry had planted in the normal way when he started farming but the soil blew.  He decided to research what methods the indigenous people used since they have lived and farmed in the area for thousands of years.  The sunken beds make sense and seem to work.  I never saw the soil blow even in heavy winds and the ground was moist under the mulch.  To water the hundred foot beds, I left a hose in the bed for thirty minutes and let the water flood the bed.
At around 1:00, Jennifer would put out the call to come in to lunch.  We all ate together, Jennifer, Jerry, their three kids, and I.  The food was all homemade and sometimes we had tortillas or pancakes made from grain on the farm.  The kids loved butter!  Watching them devour butter made me start to cook with butter.  Eggs had never tasted so good until I cooked them in butter.  We'd relax and chat for a bit after lunch.  The family lives in a house that Jerry calls tiny.  It seemed roomy enough to me.  Jerry is an advocate of tiny houses as a way for new farmers to start farming without going into debt.  During our chats, Jerry gave me lots of advice for starting my farm.  His advice came from his own experiences starting his farm.  "We made $60,000 in mistakes.  I want to help other people avoid that," he said.  I'm sure hoping my mistakes will not be too costly.
After the break, I'd go back out to work until it got dark.  The ten-year-old daughter frequently came out to work with the goats.  She had a 'salon' where she combed their fur and clipped their hooves.  She knew a lot about goats.  She explained to me how to tell if a goat is of good quality by looking at the tightness of their shoulders, the straightness of their elbows, and the U-shape of their eustachion (hind legs).  At 5:00 she fed the goats their alfalfa and milked Sabina, the only goat still in milk.
The sun sat around 5:30 behind the ridge to the west.  The full moon came up from behind the ridge to the east.  I loved the landscape around this farm.  A two-lane highway ran straight down the middle of the wide valley.  On either side of the valley was a ridge of hills that went as far as the eye could see.  The hills reminded me of the green hills of Hawaii.  It's interesting how places so different can look so similar.
As darkness fell, I went into the community kitchen to heat up some of Jennifer's leftovers to have for dinner.  I had quiet evenings alone to work on my first knitting project, a wool hat.  I'd wander out in the late evening to visit the outhouse.  The full moon lit up the land.  I'd stand and contemplate farmers harvesting their crops by the light of the moon.  I'd like to experience working under the light of the moon.  Following my moonlight meditation, I'd climb the ladder back up to my loft and snuggle warmly into sleep.
I enjoyed all my tasks on the farm.  I painted the chicken coop and hen house.  I'm sure the chickens appreciated a new color for their digs.  Jerry showed me how to use a seed driller to plant the wheat seeds.  A seed driller is a light weight, aluminum, wheeled contraption that plows a hole, drops the seeds at an even spacing, and covers the seeds.  What a time saver!  I just walked in up and down the Zuni beds, with the wheel spinning in front of me.  The hardest part is going in a straight line with a constant speed so the machine doesn't drop too many seeds in one place.  After Jerry shredded the corn stalks, I used them to mulch the wheat beds.  I cleaned the goat pens and sprinkled the fresh manure on the wheat beds.  Within the week, the seeds had germinated and little blades of bright green grass felt their first rays of the energy giving sun.
On my second day at the farm, I decided to start watering the beds early since they took most of the day.  As I was out moving the hose, Jennifer asked if I hadn't finished watering all the beds from the day before.  I told her I'd watered all of them but assumed I had to water them everyday like on the other farms I'd been on.  "Oh, no," she said.  "We only water once every week or two."   Wow, I was in the driest and hottest area of any of the farms I'd been on, and they water the least.  There was something to learn here about keeping water in the soil.
Jerry showed me how to process the wheat.  First he threshed the wheat by using a machine that loosened the edible grain from the chaff.  Then he used sieves of varying fineness to separate the grain from the chaff and other debris.  He took the grain and ran it through a small mill to grind it into flour.  This flour was mixed with all-purpose flour to get a flour that they could cook with.  "We don't know the properties of our flour and things don't always turn out right if we use it by itself," Jerry said.
"There are two does ready to burst any day!" Jennifer had told me when I had a phone interview with her.  I was excited to see my first kid being born.  One of the three pregnant does looked like she might give birth the day I arrived, but it was a false alarm.  Days started clicking by and no one had given birth yet.  "A full moon makes them kid faster," Jennifer remarked.  Would the full moon push one out before I left in a few days?  After lunch right after the full moon, I went to see the goats.  Luminaria who was getting close to her due date was lying on her side and seemed to be breathing hard.  Jennifer came out and said that Luminaria was in full labor.  Yeah!   Jennifer, the daughter and I watched intently.  A clear bubble appeared.  The baby goat was inside the bubble.  "We should see two feet and then a nose.  It's called dive position," Jennifer informed me.  Two hooves appeared but no nose.  Something wasn't right.  A cooler with first aid equipment was brought out along with towels and hot water.  Jennifer had only had to intervene on one other birth but she lubricated her arms and stuck her hands in to try to figure out what was going on.  The baby's head seemed to be below the feet.  Could it be upside down?  Jennifer went inside to get more information off the computer, then she called the vet.  She was told to push the feet back in, turn the baby into the correct position and then pull… hard.  She pushed the feet back in but couldn't tell what direction the baby was in.  We assumed we were looking at the front feet.  Being a breach baby myself, I wondered it they were the back legs.  Jennifer did her best to position the baby and then pulled the legs back out.  They were very long, gooey beige legs.  The legs came out and part of the body, and then nothing more would come out.  The legs which had been seen kicking when they first came out now hung lifeless.  We were concerned that the baby had died from the trauma and its legs broken from the force of pulling them out.  Jennifer also thought its body was bent in the middle and she was pulling on its stomach.  The baby had to come out or Luminaria would die.  Jennifer kept pulling and finally the baby fell out.  We all stared at it.  "Is it breathing?" Jennifer asked.  I looked to see if its chest was rising.  In its upper chest I saw the fast beating of its heart.  It's alive!  "Is it breathing," Jennifer asked again.  She rubbed its body and breathed into its mouth.  I saw its nostrils open wide and close.  It must be breathing.  Then to make sure we knew it was breathing, it let out a loud BLEET.  "Is it a girl or boy?" Jennifer asked her daughter.  "It's a girl!" was the response.  The importance of that hit me when the daughter said, "That means we get to keep her!"  (The boys go into the meat goat pen.)  Luminaria was turned around and started licking her baby clean.  The baby was a dirty, gooey mess when she came out, but as her mother cleaned her she started looking like a new born kitten with her fur sticking up.  Jennifer had felt popping when she pulled on the baby's legs so we were still worried that her back legs might not work.  We watched and waited.  Finally the baby moved her legs.  I wanted to see if she could stand up.  Usually baby goats stand up and start nursing in about thirty minutes after being born.  This baby took about an hour before she tried to stand.  Her legs were very shaky and it took a number of tries before she could stay upright for a couple of seconds.  Eventually she could stand and take a few steps.  Jennifer brought her to Luminaria's teats and the baby started nursing.  "She's a big baby. No wonder it was hard to get her out," Jennifer remarked.  The baby was the star attraction for me in my last few days at the farm.  By the time I left the baby had grown considerably and was jumping in the air off upside down food bowls and climbing on the back of Midnight who would give birth to three kids on Thanksgiving.
On my days off, I went into the national forest outside of Portal, Arizona.  Portal is in the foothills of the Chiricahua Mountains and is a world famous birding area.  On one hike I climbed up through desert scrub to a nice view of Cave Creek Canyon.  On another hike I followed along a stream on the South Fork Trail looking for birds.  Instead of seeing the famous elegant trogon, I saw some common woodpeckers (flicker, pileated and downy-type), Mexican jays, a brown creeper and a vireo-like bird.  It was a nice walk none the less and I didn't see a soul the whole time I was on the trail.