My seventh farm was Organics of Hakalau near Hilo on the Big Island of Hawaii.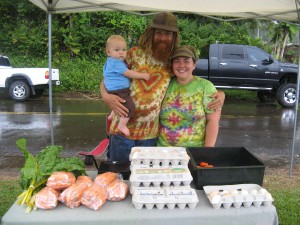 The Farm 
The sixty-two acre property is on the rolling hillsides of the Hamakua Coast on the Big I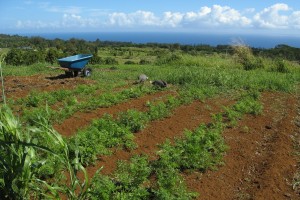 sland of Hawaii.  The area was a large sugar cane plantation a few decades ago.  Now the land has been parceled up and small farmers and retirees are moving in.  Tom bought the property in 2006.  His initial idea was to plant hardwoods which could be harvested in twenty years and bring in some money for his old age.  That plan faded when he needed to go back to the mainland to care for his parents.  After he returned to Hawaii, he decided to use the land for organic farming.  He leases the land to farm managers who plan together with him on building up the farm.  The current managers are Laurie and Forest.  Right now the farm specializes in carrots and eggs.  "There are a few carrot growers in the area, but we grow the best tasting carrots!" Forest proclaims.  The eggs are of the 'rainbow' variety meaning they come in a variety of colors: ice blue, olive, light brown and white.  The managers are looking to the future with long range plans to have a large orchard with a variety of tropical fruits including cacao trees.  (Chocolate is made from the beans inside the pods of the cacao tree which only grows within 20 degrees north and south of the equator.  Cacao growing and chocolate making is relatively new in the islands.)  They also want to get nice harvests of organic ginger and turmeric along with the usual garden veggies of peppers, eggplants, tomatoes, broccoli, and chard.
My Farm Experience
When I arrived at the farm, I was greeted by a cow.  A large black cow named April (born on April 1st) came racing down the hill towards me.  She was the first cow I met farming.  It turned out April was looking for company.  Just that day, she'd been moved up to the higher pasture next to my cabin where there was better grazing and more shelter.  Unfortunately for April, her sister Pumpkin (born on Halloween and orange colored) refused to move up to the new pasture, so April was feeling lonely and confused.
My day started with a loud moo.  When I stepped out of my cabin at seven, there was April looking at me.  By being separated from the other cows her moos would turn into loud elephant trumpeting as days went  and keep me awake at night.  From outside my cabin in the mornings, I looked downhill at the sunrise over the green pastureland and the Pacific Ocean, and then turning around to the west I looked uphill at the observation towers and a little snow on the long ridge of Mauna Kea .
There was a nice outdoor WWOOFer kitchen between the two WWOOFer cabins with a fridge, propane stove, sink and table for two.  Breakfast usually included farm fresh eggs and a cup of pure Kona coffee.  The other WWOOFer, a twenty-three-year-old guy from Boston, came in for breakfast too and we'd have a bit of a chat.  The leisurely mornings gave me time to practice new strumming patterns for the Hawaiian songs I was learning on my 'ukulele.  At nine o'clock I headed down to the greenhouse that Laurie and Forest live in with their one-year-old son to find out my tasks for the day.
The farm is still in its infancy so I did more planting than harvesting.  Forest used a tractor to till the long beds.  When he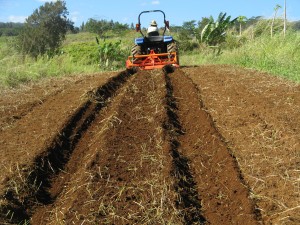 finished a field, there would be four or five raised beds ready to be planted.  The reason for the raised beds is to have as much surface area for aeration as possible.  The more air that can get into the soil, the more microbes can grow and help nourish the plants.  My first tasks were planting turmeric and taro, both root crops that take around seven months to be ready for harvest.  Traditionally, taro is used to make a mush called poi.  Nowadays taro is made into potato-like chips and used creatively to make tasty curry patties that are sold at the Tuesday afternoon Wailea farmers market.  After the root crops were planted, mulch was put on the beds to keep in the moisture and protect the soil from the baking sun.  Forest also seeded a new section of 'rainbow' carrots.  These carrots would be purple, red, yellow or orange on the outside.  There were three different sections of carrots:  one had seedlings just coming up, another had young carrots starting to form, and the third had carrots finishing filling themselves out.
Another morning task was working in either the seedhouse or the greenhouse before it got too hot.  Laurie and Forest had gotten a few pods from a cacao tree and planted the seeds inside.  The large gnarled seeds had split open, and sprouts with their first reddish leaves were opening.  It was time for them to be transplanted into the large plastic bags that tree roots are planted in.  After I carefully transferred them to their new temporary homes, they were placed under trees for shade.  Within two days, they had definitely grown and their leaves had changed to a bright green.  I guess I'd made them happy!
Eggs needed to be collected every hour in the mornings.  The store had been out of chicken feed from the mainland so the chickens were hungry and eating their eggs.  I normally love collecting eggs, but there were a couple of large leghorn roosters who didn't like the look of me.  They'd run up at me and puff their wings out.  When I yelled 'No, bad rooster!', they'd stop and back off, but when I turned around and start to walk out, they'd run up behind me and pounce.  I decided to let them win and let Forest collect the eggs.
Lunch was whenever we wanted it.  I fixed a quick peanut butter and jelly sandwich and had fruits I'd never heard of for dessert.  Rambutan was one of my favorites.  The red seed covering with soft spines was fun to peel off, and the almost clear-colored fruit inside was moist and sweet.  Small, orange loquats tastes a bit like peaches.  Yacon, a root shaped like a potato, tastes like pear.  The strangest of the fruits I tried was jabuticaba, which looks like a large black olive.  Its flavor is a bit tart.  In fact, I picked a bucket full of them for Forest to make wine with.  What's strange about them isn't their flavor, but that they grow on the branches and trucks of the tree.
After lunch I weeded the young carrots or papaya garden, transplanted kale in the greenhouse, harvested ginger or did any other tasks that needed doing.  I needed to put in twenty-five hours a week so I usually worked five hours a day, quitting at around five.  During the dusky time before sunset, I walked a mile down the one-lane road to visit the white goats on a small goat farm.  The walk took me past green pastureland planted with short palm trees that would be harvested for heart of palm, a Hamakua Coast specialty.  There were occasional cows out on large pastures.  They would stop eating, turn facing me, and watch me walk by.  What were they thinking?  Eventually, I heard a 'baa' and I knew I was coming up to the goat farm.  Most of the goats were white so I couldn't tell them apart.  There were ten new babies who would come up to the fence in a bunch, curious and loud.  After my goat fix, it was a forty minute walk back up the hill, powered by the thought of dinner and a beer.
Dinner was mostly the same every night but delicious.  This farm only supplied greens and fruit from the farm, milk and yogurt, a large bucket of coconut oil and rice.  I augmented it with the largest jug of Ragu spaghetti sauce I've ever seen and a couple of boxes of pasta.  I discovered that sautéing the veggies I had-green pepper, carrot, onion, chard, eggplant, tomato- along with some fresh turmeric and ginger, and then adding a few spoonfuls of Ragu to it, made a filling, healthy and delicious dinner.  I had a piece of island-made and grown chocolate for dessert.  And, of course, I drank some local beer from Kona Brewing and Mehana Brewing.  Evenings generally fizzled out with falling asleep at eight instead of a long evening spent getting into my book.  It frequently felt cold even though it was in the 60s at night, and I needed to get deep under the covers to get warm.  Also, I had a mosquito friend who came buzzing around once I was comfortably in bed.  If I could just find where she slept during the day…  I fell asleep to the 'Pa Pee' song of the ubiquitous coqui frogs.
On Tuesdays, I went down with Laurie and Forest to the Wailea farmers market.  It was as local as can be.  It set up in the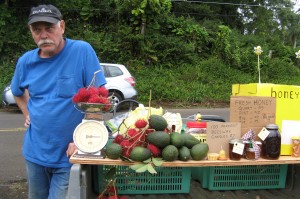 grassy parking lot of Hakalau Park.  There were around fifteen vendors and a good number of regular customers.  I recognized everyone on my second trip to the market.  I did the rounds and tasted samples of dried fruit stripes, goat cheese from the goats I visited every evening, medicinal coffee, Swedish pickles, and chocolate.  A Thai lady made Pad Thai that sold out quickly.  Customers bought Tupperware to take it home in.  A Japanese couple made moon pies with a custard-like coconut filling and a bun filled with mung beans.  I always refilled my rambutan supply and I bought some of the various other things for sale:  soft goat cheese, avocados six for a dollar, taro patties to fry up.  Everything was delicious and fresh.  The best part of the market, however, was the band.  The seven members played classic pop tunes on guitars, ukuleles, a mandolin and even a washtub bass.  Each member was responsible for a song which they sang the lead on and played the solo.  I heard that vendors sold more when they were next to the band.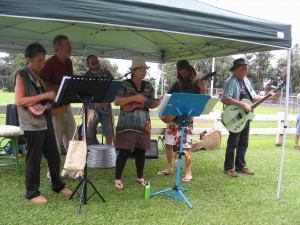 On my first two weekends I went into Hilo to look around.  The town has been battered by tsunamis.  The Japanese section was destroyed so many times that a park was built instead of rebuilding the houses.  Chinese New Year celebrations were taking place the first weekend.  Two lions went from store to store setting off firecrackers to scare away bad spirits and bring good fortune to the businesses.  On my second weekend I went to a kava bar to try the bark of the kava tree.  It is a traditional drink in the islands, used for celebrations and to relax.  I slowly sipped the earthy tasting tea from the coconut shell.  I felt relaxed when I left but I'd felt relaxed when I went in.
It's hard to get around without a car and I wanted to get over to the Kona side of the island to snorkel, so I rented a car for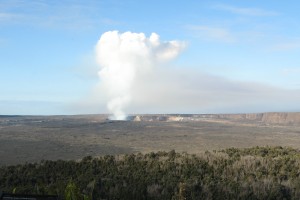 a long weekend trip.  I stopped at Volcano National Park on the first night to camp.  I'd been to the park about fifteen years ago and it seemed quite different.  I remembered stark lava and not many plants.  On this trip I was struck by the lushness of the forest that surrounds the volcanic craters.  A large puff of smoke steadily came from the depths of Kilauea Crater.  An unseen lava lake was boiling.  The smoke is toxic and most of the road around Kilauea Crater was closed.  I found the forest and the volcanic activity interesting so I nixed my plans to get up early to drive to Kona and snorkel so I could explore the park and take some hikes.  The following day I was in Kona and went looking for my favorite snorkel beach, a little pocket park next to a painted church.  I drove along Ali'i Drive figuring I'd recognize the small beach.  Eventually I came to a large beach park and turned around wondering where my little beach could be.  Back in town I asked someone.  Turned out my little side of the road beach had recently been given a parking lot, pavilion and food truck.  Once I drove back and got into the water, I found that the fish and turtles, at least, hadn't changed.  For all my excitement to snorkel that was the only time I did it.  I circumnavigated the island so a lot of time was spent driving.  I did eat well.  My favorite meal was the pizza luau at Cafe Pesto.  It was their take on a Hawaiian pizza.  Instead of pepperoni, they used kalua pork which is slow roasted pulled pork.  Delicious!
When I got back to the farm, I asked if anything had changed.  Something had changed.  A pasture gate had been inadvertently left open and Ko and her calf Ocho had walked out of their pasture and headed towards the upper pasture where April was.  They were corralled into the upper pasture and now April was happy and quiet, and Ko was eating up a storm with all the fresh long grass.  Pumpkin, however, was not happy.  She stood alone looking up towards her family, letting out low mournful moos.
I wanted to go to the 13,000 foot summit of Mauna Kea before I left the farm.  The two new WWOOFers were also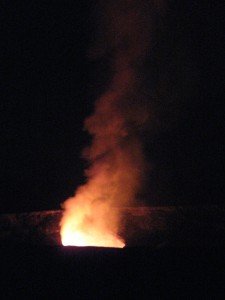 interested so I rented a car again.  Our first summit attempt was a rain out.  Undaunted, we vowed to try again on the next clear morning.  The following morning not being clear, we went to Volcano National Park.  One of the WWOOFers was studying geology so he was able to explain what we were seeing when we went on a hike through a lava bed.  After dark we went to the overview of Kilauea Crater and saw the red glow of the heaving smoke.  Everyone sat in silence mesmerized by this force of nature.  We camped at the smaller campground inside the park.  Our campsites were stunning.  I lay outside on my foam pad watching the red glow from the crater brighten and fade.  A light rain sent me into my tent.  Stars were out by morning.  The wide brown mass of Mauna Loa greeted me at sunrise.  We packed up quickly and drove off to make another try for the summit of Mauna Kea.  It was cloudy at the 9,000 foot visitors center where we needed to stop for a time to acclimatize to the altitude before going up to the summit.  We also had to make a decision on whether to drive to the summit in the rental car or try to get a ride with someone who had a 4-wheel-drive.  I had been told by a grumpy staff person that only 4-wheel-drive could make it down from the summit without burning out the brakes.  "We just had a car fly off the road two weeks ago," he warmed.  Dubious that the road was really that bad, I was tempted to drive.  However, a Jeep had pulled into the parking lot and we were eyeing it.  The two men that belonged to the Jeep were happy to take us aboard.  Even though they had 4-wheel-drive, they were unsure about driving up.  We chatted as we slowly went up the windy gravel road.  Eventually snow appeared and then the round telescopes.  We parked at the top and looked around.  Clouds obscured the view of the island but we stood in cold sunshine. I'd never been up that high before.  One of the men with the Jeep was from Florida and he felt the altitude quickly.  I thought it would be nice to walk the eight miles back down to the visitor's center.  Then right after I had that thought I noticed I felt a bit wobbly and made my way back to the Jeep.  Four-wheel-drive vehicles have two gearshifts.  The second gearshift has very low gears which is what is needed for steep hills where you don't want to ride the brakes.  As we were driving down, regular rental cars started coming up including a red Mustang.  Maybe I could have driven my little rental car to the summit, but it was fun being in the Jeep and watching the guys figure out how to work the 4-wheel drive gears.