My thirteenth farm was Wise Acres Farm in Kenduskeag, Maine.
The Farm
The farmer is Brittany.  Only thirty years old, Brittany was the youngest farmer I WWOOFed with and she was also the most business-like.  Brittany grew up on a homestead with goats in Maine.  She left Maine for a while but came back to her home state to start a farm.  To learn about the business side of farming, Brittany did a two year apprenticeship through the Maine Organic Farmers and Gardeners Association.  She worked on local farms learning how to grow and harvest vegetables.  After she started Wise Acres Farm, Brittany was in the Journeyperson program through MOFGA that pairs new farmers with experienced farmers who share their knowledge of farming and business practices.  Wise Acres Farm is in its third year and participates at farmers markets in Ellsworth and Bangor.
My Farming Experience
I was excited to be on a commercial farm–a farm that started out from the beginning as a business.  Since I want to generate income on my farm, I wanted to learn as much as I could about the business-side of farming.  In my short one week at Wise Acres Farm I gained some valuable insights into running a successful farm.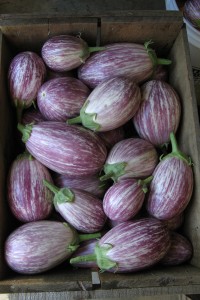 I was at the farm in August, prime harvesting time.  The first thing I noticed was how physically hard vegetable harvesting is.  It's not that it wore me out–I have eternal stamina–it's the position one has to be in while picking the vegetables.  The rows we harvested along were eighteen inches wide.  That is the width of one's body in a squatting position.  If the rows were any narrower, our butt would sit on the plants behind us.  If the rows were wider, they would be taking up valuable space that could be used for planting.  My problem is that I can't balance while squatting.  Balancing on my toes while reaching forward with a knife in one hand and a zucchini in the other would lead to my toppling over onto the prickly zucchini stems.  If I knelt on my knees, my feet were in danger of hitting the plants behind me.  Brittany flew down the rows squat-stepping while I either bent down to reach the vegetables or butt-slid through the dirt.  She had learned the proper harvesting techniques while apprenticing on farms in the area.  My poor technique gave me a backache and put my legs to sleep.  I was also slow.  Brittany finished three quarters of harvesting in the time it took me to do one quarter.  This was partly due to technique and partly due to my checking each vegetable carefully to determine whether I should harvest it or not.
The zucchinis were easy to harvest.  We were looking for big ones.  "This one's about as big as I am!" I exclaimed as I bent to cut the stem of a giant zucchini.  "Don't take that one.  I may enter it in the fair," Brittany answered.  "I'm glad I said something," I muttered feeling disaster had been narrowly averted.
If you want to be popular at the farmers markets, you must have high quality produce.  The vegetables we harvested needed to be the optimum size so they would have the best flavor and texture.  I found a nice plump cucumber, but Brittany tossed it away saying it was too big to have good flavor.  The veggies couldn't have any blemishes either.  It didn't matter how small the blemishes were, if they had any, they went into the Seconds pile which would get a discounted price at the farmers market, or were brought into the house for home consumption.
There was a lot to harvest:  lettuce, arugula, Swiss chard, kale, squash, beans, onions, zucchini, cucumbers, small watermelons and tomatoes.  The full boxes were heavy to carry back to the truck.  Next to the house is a washing station.  Brittany is attuned to what customers want.  Not only do washed vegetables sell better, but onions and scallions (green onions) sell better if their outer layers are taken off so they are a sparkling white.  We washed the vegetables and put then into a walk-in refrigerator Brittany had recently built with her dad.  A special computer and three-foot-thick Styrofoam insulation keeps the room cool to forty-five degrees F.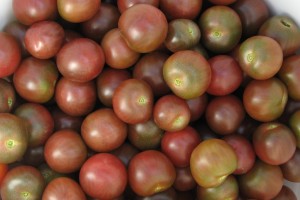 Once the harvesting was done, Brittany went inside to enter the harvest data onto her spreadsheet.  Before we had started harvesting in the morning, she had checked last week's sales from the farmers markets to decide how much to take.  She also tracks the profit and loss from each crop.  The veggies that sell the most aren't necessarily the most profitable.  There needs to be a balance of high profit crops that might not sell very well and lower profit crops that bring customers into the stand each week.  Being attuned to what customers want, Brittany is hoping to add profits by planting a large quantity of early spring crops like arugula because customers are salivating for the first greens of the season.  Customers also like to keep eating their favorite greens into fall, so Brittany is going to keep certain crops going into fall past the time when other farmers are selling them.
While we were out harvesting, I noticed that the plants looked especially pristine–very few bug bites, and there were few weeds.  Brittany told me that the farm is an old wheat field so there are no bugs on it yet that eat vegetables and the weeds that colonize vegetable beds aren't here yet either.  I wonder how long that will last.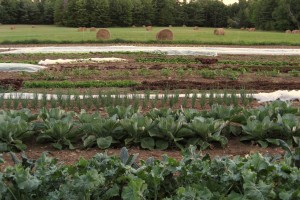 I got to plant some seedlings one day.  Brittany described the process:  slash backwards with the trowel to make a little hole, drop the plant in the hole, slash the trowel forwards through the soil to cover the roots.  "They've got to adjust," was Brittany's comment when I remarked that was all we had to do.  I like to carefully tuck the small plants into the soil.
Finally it was Sunday, the day I was going to accompany Brittany and her partner Joy to the Bangor Farmers Market.  The early morning was spent loading the heavy crates of vegetables into the van.  Another nice marketing touch was the Wise Acres Farm logo on the sides of the van.  When we got to the market Brittany and Joy went into their setup routine.  An attractive display is important at the market.  They used crates and boards to make tiers so they could show off the most vegetables.  One of the small watermelons was sliced up and samples were put out at the entrance to their stand.  People were lined up to buy before they were completely set up.  I wandered around to check out the other stands.  There were many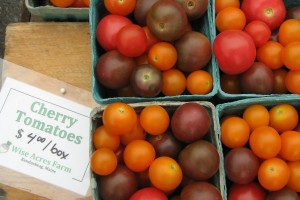 stands selling the same produce.  What I noticed was they were not all equally as popular.  One of the farms Brittany had apprenticed on was by far the most popular.  A long line snaked from the cash register to the last customer in line.  Brittany's stand appeared to be the second most popular.  I wondered why customers pick one stand over another.  Some of the customers were regulars and some weren't.  They did comment on how nice the produce looked.  And sure enough I overheard customers telling Brittany that the scallions looked lovely and picking up a bunch as an impulse buy while they were at the cash register.  By the end of the market the small watermelons had sold out and the onions had sold well.  The sales totals for the last two weeks had beaten the previous highs.  Brittany had earned it.  She worked from dawn until after dusk tending her fields and doing record keeping.  Sunday afternoon was a time for rest before gearing up again to prepare for next week's farmers markets.