My seventeenth farm was Granny's Farm in Raymond, Washington.
The Farm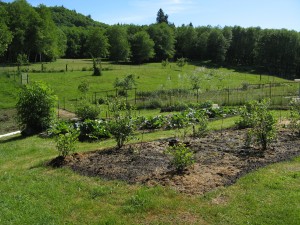 The farmers are Sandy and Larry. They both grew up in Western Washington. Larry harvested oysters in Willapa Bay for twenty-five years. He devised a way to raise oysters on pvc pipes which kept them away from the burrowing shrimp which feed on baby oysters. He also had an oyster shack where he sold oysters to the public. Sandy learned square dancing when she was in elementary school. As a young adult she noticed people only jumped up and down when they listened to live music. She decided to give them direction and call out moves. This led to a career as a square dance caller, and then to a local radio show called Sandy Bradley's Potluck. On Saturdays, Larry would sit out in his boat on the bay and listen to Sandy's show. Sandy also was an auctioneer for fundraisers, and one day Larry peddled his bicycle down to a fundraiser in Portland where he finally met Sandy. After the auction she drove him back home. Now they are married and have one hundred acres on a lush hillside not far from the bay. They raise goats for milk, sheep for wool and meat, chickens, ducks, pigs, and two donkeys for protection. Larry has a mill where he saws wood for his building projects. They grow most of their own food and barter for many of the things they need.
My Farming Experience
I arrived to an emerald green farm. It was June first and the summer drought hadn't yet browned the pastures or trees. After spending the winter and spring in Seattle, I was excited to be back on a farm.
My first few days at the farm involved adventures with Larry. One morning we went out in search of foxglove. While the flowers are showy and often grown in gardens, foxglove contains digitalis, a heart medication that can kill animals. As we walked from the pasture into the forest, Larry showed me the spring where the farm gets its water. Coming from the city, I could appreciate chemical-free water fresh from the source. A handful of goats joined us on the walk, their wide stomachs knocking me to the side when they pushed past on the narrow trail. The four-foot-tall foxglove flowers were easy to spot. After reducing their numbers some, Larry took me to the top of the hillside to show me an ancient maple tree. It was huge. One can't look at a stately tree like this without an historical timeline passing through the mind, imagining all that has happened during its life span.
The following day I nestled down in the comfy front seat of Larry's tandem bicycle and rode off with Larry to a neighbor's farm to gather wood for his mill. A large tree had fallen into a steep-sided pond. It was in sections, but the sections were too big to pull up the bank. Larry used a mallet and wedges to break the sections into smaller pieces. He put a rope around the piece and I pulled on the rope while he pushed from the bottom. As with most things that require physical strength, I was mainly a decoration. One by one, Larry cut pieces of the tree and moved them out of the pond while offered moral support. At the point where Larry finally tired out, the neighbor showed up with his tractor and pulled out the last piece for the day. Larry and I got back on the bicycle and peddled home to the farm, he more worn out than I.
Back at the farm I helped Sandy milk the five goats. At first I had guard duty. I opened the gate to let the goats in one at a time, and then opened the gate to let them back out. This was all easy except for Sheba. No one wanted to go back out through the gate because Sheba was waiting to head-butt them on the other side. She even made life difficult for her own daughter and me if I got in the way. Finally, I realized life for all of us would be easier if Sheba wasn't allowed to hangout in the small holding pen waiting for a tussle. After she had been milked, I pulled her out to the barn area, and guard duty became much easier. Timex was the last goat brought to the stanchion. She was going to kid any day so she was in training. She was fine with getting on the stanchion and eating grain, but when her teats were touched with the warm cloth, she jumped in the air. "Lock my head in place and then touch my nether regions, I'd do the same thing," I remarked to Sandy.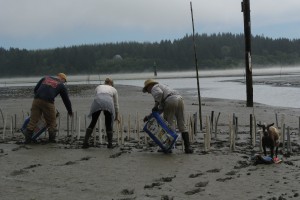 Another adventure with Larry occurred in the mudflats of Willapa Bay. Larry told me how commercial oyster harvesting scrapes the bottom of the mudflats and destroys the colonies of oyster beds. Now the population of a native burrowing shrimp has exploded and their burrowing habits have turned the mudflats to goo. The baby oysters fall into the goo and die. To combat this problem Larry and some friends walked out onto the mudflats to set pvc pipes into the mud. The baby oysters could then grow off the mud floor. I followed Larry out onto the mudflats and quickly got swallowed in the goo. Feeling rather useless, I watched from a goo-free distance as Larry and his friends walked on top of the goo carrying the heavy pipes and setting them up. Obviously there was a technique for walking in the goo that I didn't have. The friends had fresh oysters and Larry bartered a baby goat for some of the oysters. Dinner that night was oysters grilled to perfection.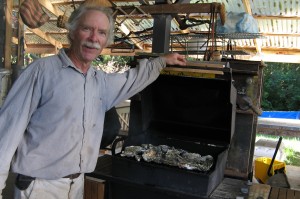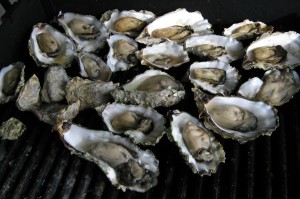 One evening on guard duty with the goats, I went to find Timex for her practice session on the stanchion. I called her name and heard a response from the barn. Far in the back I saw her sitting with a white creature curled up in front of her. A duck? On closer inspection, I discovered she'd had her baby. It must have been some time ago since the baby was cleaned up and both of them were resting contentedly. I thought Rolex was a fitting name for the stout, odd-looking boy goat, and Sandy and Larry agreed.
Rolex added a fun element to my stay. He was immediately taken away from his mother and I was given the task of taking her place. After the morning milking, Sandy filled a large baby bottle with the warm milk for me to give to Rolex. He got heavy and bigger quickly. "There's a golden period of about two weeks before they start to jump on things and nibble," Larry explained as he opened the gate to Rolex's pen. For this time, Rolex got to gallivant around the farm like a puppy. This was fitting since he lived in a dog house and looked like Snoopy. Unlike a dog, though, he kicked his heels off to the side in goat fashion as he bounced around the yard.
"There's a constant parade of people through here," Sandy told me one day. Having a strong community is very important to Sandy and Larry. Sure enough, people did start to drop by. Some stopped in to pick up cheese, milk, or veggies, others just to shoot the breeze. I met Arthur who is experimenting with sea-sourced amendments to find out which will grow the most nutritious garlic and potatoes. I even got to meet their very first WWOOFer, who dropped in for a few days. Larry and Sandy make everyone feel so welcome and at home that the neighborhood kids come by frequently just to hangout or to get Larry to come with them as they can ride off on bicycles to check their crawdad traps.
The farm was in good shape so I started to wonder what I'd be doing with my time. Sandy mentioned there was weeding to do in the front yard. By the time I was finished two weeks later, I'd done my most epic weeding ever. On closer examination of the front yard, I found trees hidden inside of thick grass that was taller than me. A morning's work and a tree would appear again, freed from its grassy cage. Once the front yard was done, Sandy pointed under a large tree next to the house. "There're some weeds there." That was an understatement. It took me almost a week to clear out the weeds and the dense blackberry patches. I found a technique to easily pull out the blackberries vines by their roots. Since goats love blackberry leaves, I'd drag a long trail of vines up to their pen. The hard part was getting the vines over the fence without getting poked.
At around two in the afternoon, the ducks and geese made their daily parade from the pond to the yard. Their mission: to eat bugs and slugs. The male goose hissed menacingly every time he passed me. Five white ducks had been raised in the house and now thought of it as theirs. If the sliding glass door hadn't been closed, I'd find them waddling around the downstairs room. One morning Larry found all the birds at the pond with wet feathers and not feeling well. Two goslings were dead and the third died later in the morning. What had taken the protective oil off their feathers? Larry did some research but didn't have a conclusive answer. One of those mysteries of farming that happens from time to time. Thankfully, by the next day the ducks and geese were back to normal.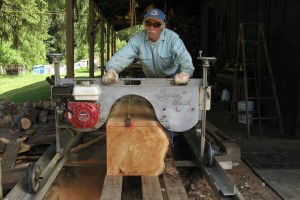 The days fell into a relaxed routine. Sandy made cheese. Larry sawed wood in his mill. I leisurely read Michael Pollan's Cooked before going out to fight the weeds. In the afternoon Rolex bounced by, and at 4:30 Larry handed me a glass of homemade berry wine. Rough life. We ate lunch and dinner outside at a picnic table. I liked this. There's nothing like a farm-cooked meal with vegetables picked just moments ago, eggs just out from under the hens, and milk just out of the goats. A meal like this should be eaten outside. The best part was the custards and puddings Sandy made for dessert. Larry would tell stories from his childhood growing up in the town of Longview on the Columbia River. His stories reminded me of the coming-of-age movies I'd seen. Racing passenger pigeons home from school on his bicycle. Catching fish to sell to merchants at the market. He was quite the do-it-yourself entrepreneur even as a child. After dinner I walked down a forest service road to a hillside clear-cut with expansive views of the forest below. Like a dog, Rolex would follow me on the walks. One evening we were at the clear-cut at dusk. I thought I heard something in the bushes behind us. Suddenly I realized Rolex would be a tasty morsel for a wide variety of animals that could be lurking in the forest. Prudently we hurried home. The perfect cap to the day was a cup of Larry's freshly picked mint tea.
On my day off I went to Cape Disappointment State Park. This is the place where Lewis and Clark reached the Pacific Ocean. Hiking around the park, I had to contain myself to keep from pulling up the foxglove plants. I always have Lewis and Clark on my mind when I visit this area, but now I had Larry's life, a modern life, to add to the history of this special place.