My twenty-fourth farm was Wild Wines in Jacksonville, Oregon.
The Farm
The farmer is Carla.  She is originally from Connecticut and studied photography and journalism in college. After graduating, she ventured out to Southern Oregon and liked it. She was a farm manager on a number of farms in the Jacksonville area. She started making medicinal tinctures. However, people didn't like medicinal beverages so she started making wild-fermented wines. After a few years of practice and experimenting, she opened Wild Wines d in 2007.
My Experience
"People sometimes won't try my wines because they think they will be sweet." but they are dry. Carla.
It was the height of blackberry season when I arrived in August. There is no need to grow your own blackberries because the thorny canes grow abundantly in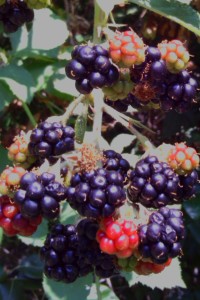 the Pacific Northwest. Carla had scouted two prime spots for picking. One was along a riverbank about twenty minutes from her farm, and the other was in a cow pasture, an eight minute walk down her street. "Don't fall in!" Carla warned as we took our places in front of the seven-foot-high blackberries bushes that blocked our view of the river below. Looking down, I saw that a little ways into the blackberry patch, the ground disappeared into a black void. My skin shuddered just thinking of what would happen to it if I slipped down the bank. Carla is a professional blackberry picker. Wearing only a tank top and shorts, with a bucket tied around her waist, she gets right into the thickness of the vines. From years of practice, she can slide handfuls of ripened berries off the clusters using both hands at once. I, on the other hand, wearing long pants and a long-sleeved shirt, was wary of getting too close to the thorns. I toiled along in the hot sun, slowly filling my bucket. The three others had already filled one bucket and were on to their second. Carla happened by and told me to move to a different spot. The one I was in had only small berries. The berries at the new spot were large and plump. It hadn't occurred to me that the berry size could differ along the river. This was a lesson that I was slow to learn.
My other main task at Wild Wines was pulling the tall grass out of the aronia bushes so they'd be ready for putting up the bird netting and harvesting. Aronia berries look like blueberries on steroids. The plant is from the east coast; I'd never heard of it. The grass was well-established, and it was an all-out tug-of-war to remove it. By the end of my four-hour shift, I was exhausted.
One evening Carla walked me over to her neighbor's cow pasture where she wanted me to pick berries the following day. "The cows won't bother you," she claimed after I voiced concern that they might not like a stranger in their field. The following morning I climbed the pasture fence with the two buckets I needed to fill. The cows were at the far end of the field munching grass. There were lots of ripe berries so I started at one end and worked my way across. The bucket slowly filled, yet I was working diligently. Time went by and the cows were now in the middle of the pasture. I hit a patch of unripe green berries and moved farther along. The first bucket was finally filled. Turning around I discovered the cows had quietly joined me. By the time I had walked back to get the second bucket, the cows were already starting on their return trip down the pasture. How could that many large animals be so quiet? Onward I picked, going around a corner of the pasture. My four hours was about up but I wasn't going to stop until I got the two buckets full. As I was going along the road side of the pasture, I hit a section with large plump berries. My bucket filled quickly. The light bulb went off in my head that I should have looked for the plumpest berries first just as I had learned on my first day of picking by the river.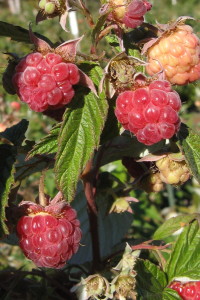 Carla sent me out to check on her raspberry patch. She gave me a small container assuming there wouldn't be many ripe one. I dutifully went down each row, fighting my way through the jungle of prickly tall vines. There weren't many ripe ones, but I picked the few I found. When I got to the last two rows, I discovered most of those berries were ripe and I'd just spent my four hours picking half a small container's worth of raspberries. There was my third lesson in 'if they aren't ripe, move on'.
Berry picking isn't bad but I had to spend an afternoon sewing up the rips in my long-sleeve shirt. I also spent a few afternoons wine tasting in the Applegate Valley. I'm a beer drinker, but I am trying to acquire a taste for wine. I like the natural process of winemaking. Managing the grape vines, stomping the grapes, wild fermentation, aging in barrels. And, of course, the aesthetics of it all: the leafy-green-vineyards, the golden light of the barrel-filled cellars, the grape-arbored tasting rooms. If only I liked wine. So off I went one hot afternoon to Red Lily Vineyards which features a shady riverside. There were two red wines to choose from if I wanted to take a glass down to the river. I had tastes of both of them and chose the tempranillo. By the time I sat down by the river with my glass of wine, I was already feeling the effects from the tastes and had a bit of a headache. I read my book and slowly sipped the full-flavored wine that I was regretting. My headache grew. After finishing the wine, I went back to the farm for dinner. Carla and I watched a movie in the evening. With my head back on the sofa, my headache was better. But the wine got me one last time. I suddenly was sick after the movie. Later on, I learned that tempranillo is a strong wine; I was probably dehydrated as well. I went back to beer.
Carla makes a variety of wines: blackberry, raspberry, blueberry, peach, ginger, dandelion and lindenflower, to name only a few. They all use fruit, roots, or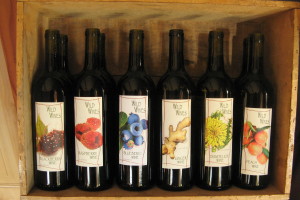 flower petals. I can't imagine picking enough flowers to make large batches of wine. There are four ingredients to making these wines: berries or petals, sugar, water, and the yeast that makes it ferment. Once we'd picked enough blackberries, I got to watch Carla's process to turn them into wine. The berries, sugar, and water were put into buckets. I was surprised at how much sugar she used, especially since her wines are dry. Then she mashed the berries and sugar together, and added more water. The buckets were poured into a vat and the fermentation would soon begin. Eventually, the wine was put into glass carboys to finish fermentating.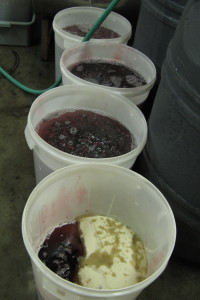 On my days off I went camping at the Oregon Caves and the Redwoods down in California. A highlight was joining Carla and her family at Bear Basin Lookout to watch the Perseid meteor shower. From the old fire lookout, we could see the thin line of the Pacific Ocean in the distance. That night I woke up at two in the morning so I could see the height of the meteor shower after the moon had gone down. I could see flashes of white zipping by while I was inside my tent. When I got out of my tent so I could see the entire sky…lull. They seemed to come in waves. Most were faint. I saw a pair of meteors that looked like they were dropping straight down to earth, side by side. I got back into my tent after a while. Every time I opened my eyes, I saw a flash of white light. When I sat up to watch…lull. I decided to go back to sleep.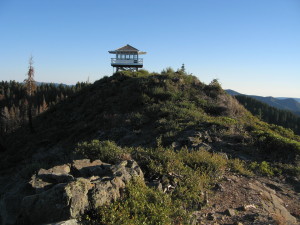 Carla noticed the aronia were ripe as I was getting ready to leave. Harvesting them by the handfuls was fun. And it was easier without the grass in the way. I only got a little time with the harvest before it was time to move on. I still haven't acquired a taste for wine.