My twenty-sixth farm was The Mushroomery in Lebanon, Oregon.
The Farm
Jen moved from Miami to the Northwest to be in nature. She studied mycology at Western Washington University. Dustin is originally from Utah. They both were working in mycology when they met in 2004 in Bellingham, Washington. Their passion for mushrooms, especially growing wild and medicinal mushrooms led them to start The Mushroomery in 2007. Some mushrooms they collect from the forest, but others are grown in a building on their fourteen acre property. The farm specialized is gourmet mushrooms, powdered mushrooms for soups and sauces, and medicinal mushrooms and tinctures.
My Farm Experience
Hosts ask me if I have any WWOOFer horror stories. They assume that I must after being on more than twenty farms. They're surprised when I tell them all my farms have been great. I carefully select farms, using the host's profiles, WWOOFer reviews, and Google searches. My final decision is based on whether I feel excited to go to the farm. Everything looked good with The Mushroomery: complete host profile, past WWOOFers had a good experience, and a Google search turned up a young couple making a lifestyle for themselves through their passion for mushrooms. I was excited to learn about identifying mushrooms and how to cultivate them indoors. When I spoke with Jen on the phone I learned that she would be WWOOFing in Latin America and Cuba right before I arrived. I couldn't wait to hear her stories. In fact, the combination of learning about mushrooms and meeting Jen made me assume The Mushroomery would be the highlight of my summer.
When I pulled up to the farm, no one came out to greet me. This was surprising since I'd left a phone message with my arrival time. I knocked on the door and a man with a heavy dark beard answered, obviously startled to have a visitor. When I introduced myself as the new WWOOFer, Dustin Jen's husband, responded that he wasn't expecting me. So began my first WWOOFing experience that didn't work out.
Dustin led me to a small room with a large bunk bed in the building where they grow the mushrooms. The room was furnished with cobwebs, dirty bedding, and a cat. A sign Jen had posted by the door with rules on cleaning up when you leave had obviously gone unnoticed by previous WWOOFers. As I was vacuuming up the spiders, Jen's nineteen-year-old son Audric came in. He told me Jen had left a month later than planned on her Latin America trip and wouldn't return for another month. Unfortunately, I wouldn't get an opportunity to meet her and hear her WWOOFing stories. Audric is mature, social, and enthusiastic. He showed me around the farm, introducing me to the goats, the fruit trees, and his favorite hangout place: a sitting area under a low canopy of tree branches. Inside the building I saw the humid rooms where the mushroom spawn was growing and a desk with a microscope and Petri dishes. The following day was market day and Audric invited me to go with him to the Corvallis farmers market. It would be my only mushroom education from the farm.
We took three types of fresh mushrooms to the farmers market: shiitake, chanterelle, and lobster. The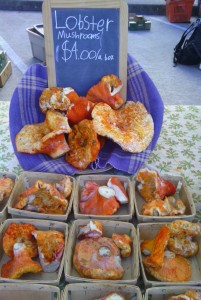 lobsters and chanterelles were wildcrafted, a fancy word meaning harvested in the forest. The shiitakes were grown by another farmer. I weighed out bags of mushrooms as Audric set up his booth. Audric's friend Eric joined us. Eric photographs mushrooms, enhancing their colors digitally to bring out their artistic qualities. Customers stopped by, intrigued by the baskets filled with mushrooms or with a recipe in hand. Listening to the conversations I learned shiitakes have a smoky flavor and are good in sauces and stir fries. They are a good meat substitute. Chanterelles are fruity and peppery. Simply cooked in butter, they will be the star of a meal. Orange lobster mushrooms have a mild seafood taste and are good on pizza. On occasion, Eric and Audric left and I was alone with the customers and mushrooms. I answered the questions I could and expressed my ignorance on the ones I couldn't. I figured the customers would be happy with whichever mushroom they chose; I just needed to smile, be friendly, and give correct change.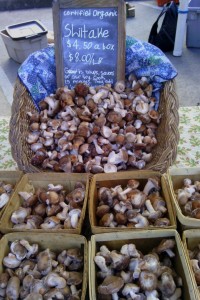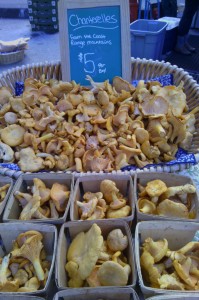 Oregon is famous for beer, and I was in one of the state's best areas for breweries. With nothing to do the day after the farmers market, I went hunting for interesting beer. First up was Mazama Brewing in Corvallis which has Belgium styles including a sour. I'd recently acquired a taste for sour beers, so I paired a Sour Sunset with a cone of freshly fried fries. Next I stopped at Viking Braggot Company in Eugene. A braggot is beer made with honey, a marriage of beer and mead. Each of the braggots in my taster tray had a hint of flowery sweetness.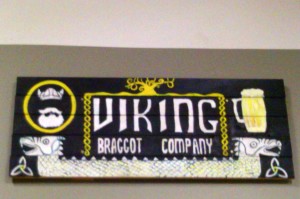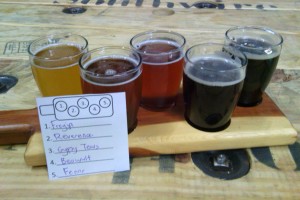 I left The Mushroomery two days after I arrived. A farm near Portland had agreed to take me on short notice. The house was empty when I went inside to tell them I was leaving. I left a note on the table and went to my car. My only send-off were two goats tied up in the yard calling for food.